As Reported on The Drudge Report Dog Parties Are The In Thing
Cleo's Now Offers Cat Parties and A Boutique with a Full Line Of Dog and Cat Clothing and other Pet Apparel
Put On A Social Event That Is Unique Fun
And
Will Be The Best Party Of The Year !!!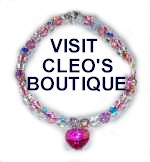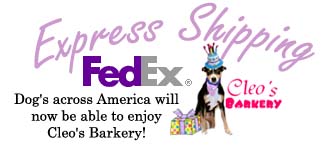 Cleo's Barkery™ Offers Party Packages For Your Pets Special Day. All Gourmet Homemade Meat Canine Birthday Cakes In A Variety Of Flavors (Lamb, Chicken, Duck, White Fish & Vegetarian) Happy Birthday Hats, Bandannas, Cupcakes & Doggie Treat Bags Filled With Homemade Biscuits & Gourmet Cookies
March 13 & 14
Cleo's Barkery will be on

Look for us on PET TALK
A half-hour show that features animals and the people that love them! Guests range from experts on health issues to the latest fashion for your furry family member. Features adoptees of the week, pets in the news, and much more!


Check Out Our All Our Party Packages On Our Website
Click Here